Current KPhA President, Mike Bellesine, pharmacist, Owner and CEO of El Dorado TrueCare pharmacy in El Dorado, KS receives the KPhA President's Award from Mike Larkin, KPhA Executive Director. He received the award to honor his leadership on the Board.
Current President-Elect, Jonalan Smith, pharmacist and Vice President of Pharmacy Services at Sunflower Health Plan receives the National Community Pharmacists Association (NCPA) Leadership Award. The award is given to a KPhA member who assumes the role of providing leadership to the KPhA organization by serving as the President of the KPhA Board of Trustees. The award was presented to Smith by Mike Bellesine, KPhA President.
Lance and Sloane Freeman- District 1 Director, husband and wife pharmacists from Medicine Lodge, KS, receive the Pharmacists Mutual Distinguished Young Pharmacist Award from Milt Siegfried, retired Pharmacists Mutual Representative. Pharmacists Mutual sponsors the award. Their nomination stemmed from their combined activity in the community pharmacy arena since graduating from the University of Kansas School of Pharmacy in 2011. They now own five pharmacies in Anthony, Clearwater, Conway Springs, Kiowa, and Medicine Lodge and set a positive example for pharmacy students and colleagues interested in pharmacy ownership. They received the award for their hard work and dedication to the practice of pharmacy.
Brett Kappelmann, Pharmacist and owner of Cooper Drug Store in Augusta, KS receives the Medication Therapy Management (MTM) Champion Award from Sunflower Health Plan. The MTM Champion award honors a pharmacist who is actively involved with a patient's health outcome by meeting with them to consult their medication therapy regimen and in turn, work with the patient's physician(s) to help make sure that the patient is taking the proper medication regimen.

Brett also received the National Alliance of State Pharmacy Associations (NASPA) Excellence in Innovation Award. This award is sponsored by Upsher-Smith Laboratories, Inc. It recognizes and honors a qualified pharmacist who demonstrates a significant innovation in their respective practice resulting in improved patient care and advancement of the profession of pharmacy. Brett's innovation in medication adherence packaging and medication therapy management services are a model that could be considered on the national level.
Amanda Applegate, KPhA District 4 Director and clinical Service Coordinator for Balls Food Stores in Kansas City, KS receives the KPhA Board Member of the Year Award from Mike Bellesine, KPhA President. The award is given in recognition of an individual who has provided exemplary service for one or more years to KPhA. The KPhA Board of Directors selects the recipient of this award.

Amanda also received the Board Member of the Year Award. The recipient of this award is selected by the KPhA Executive Committee, based on various criteria including attendance and participation at meetings, their efforts towards membership recruitment and enthusiasm.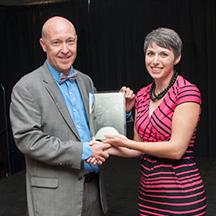 Gregory Burger, Pharmacist and Medication Safety Coordinator for Stormont Vail Health in Topeka, receives the KPhA Champion of Pharmacy Award from Jody Reel, Governmental Affairs Committee Chairperson for KPhA. Greg was nominated for two major accomplishments. First, he was involved in getting the Pharmacist Collaborative Practice Legislation in Kansas passed. Second, Greg created the 'My Pharmacist' video campaign to highlight the importance of pharmacists in the healthcare system. As Past-President of the Kansas Council of Health-System Pharmacy, Greg has embodied what it means to be a "Champion of Pharmacy."
Don Hill, Pharmacist from Emporia, receives the KPhA Pharmacist of the Year Award from Mike Bellesine, KPhA President. The KPhA Pharmacist of the Year Award was established in 1977 and is presented annually to a KPhA member. In order for a KPhA member to receive this award, they must be a member in good standing, be a licensed pharmacist in Kansas, be an individual of the highest degree of integrity and be recognized as a professional leader.
David R. Schoech, Pharmacist, Mercy Hospital of Columbus, KS, receives the Bowl of Hygeia Award. The award was presented by Steven Charles, Oswego, KS pharmacist and former Bowl of Hygeia recipient. David was nominated for the award because of his involvement in his community since graduation from pharmacy school in 1982. He returned to his hometown after graduating to work in the local drug store. He later opened his own store and operated it for 15-years while serving the community in multiple organizations, both civic and private for the last 35 years.